REFILL Luxury "Money Masque" for Hair: Ayurvedic Nutrient Bomb
Regular price

Sale price

$50.00

Unit price

per
*Refills are shipped in an eco-friendly Metal container with glass vial and bamboo spatula for stirring. 

Simply mix the conditioner in your originally purchased plastic jar to refill. Apply to hair. 

Why You'll Love it: After ONE USE:  Infuses Radiance, shine, and strength. This gloss leaves your hair glowing, fortified, silky, and well mannered imparting hydration and strength. Work your Magick.
Hair masque packed with nutrition for your hair. Natural & Organic. Ayurvedic Herbs, Botanical herbs, 100% therapeutic grade essential oils. 
What you'll get: 
1.5 oz order: 1 ounce of masque + 0.5 oz of aloe vera juice 
3 oz order: 2 ounces of masque + 1 oz of aloe vera juice
1 oz of masque + 0.5 ounce aloe vera juice = 1 application for upper-back length hair (thick) 
How to use: simply pour the aloe vera juice into the masque container. Mix. Ready to apply.
Use once a week for best results. Start with damp hair. Separate hair into sections and clip up. Choose a section and apply masque starting at the ends and distribute up towards the roots. Smooth until evenly coated. Secure section and repeat this process until all hair is coated. Secure and leave in for 1 hour or longer. Rinse hair. Style.
Maximum Results: Heat opens cuticles and pores allowing greater absorption deep into the core of your hair and down into the roots of your hair cells. When possible, cover with a spa towel, cap, or heated dryer during infusion time.  
Quick Treatment: Sometimes, all you have is 15 minutes or less. It is perfectly fine to still use a treatment because it will have significant results. For weekday mornings or rushed days, leave in for 5 minutes for immediate results. Rinse. Style.
Blow dry: Always deep condition your hair prior to blow drying to reinforce and moisturize hair to prevent damage. This will reduce blow dry time, improve blow out results and helps your blowout results last longer. Blow Drying heat disrupts your pH balance which causes frizz and can damage the cuticles leaving them broken or with crevaces. Use "Weekly Indulgence" to minimize harmful effects.
*USDA Certified Organic Ingredient
Ingredients: Plant Based Kosher Glycerin, *Mango Butter, *Shea Butter, *Cocoa Butter,  *Henna, Amla, Shikaikai, Brahmi, *+ Vamp Boss Immortal Nectar Serum (see list below), *Fenugreek seeds, *Aloe Vera Powder, *Rose hip powder, *Hibiscus flower, *MSM, *Apple Cider Vinegar, *Lavender Essential oil, Peppermint Essential oil, Grapefruit Essential oil, Tea Tree Essential oil, Red clover Extract, *Clary Sage Essential oil, Oregano Essential oil, *Rosemary Extract, Eucalyptus Essential oil, *Clove Essential oil.
+ Vamp Boss Immortal Nectar Serum Ingredients:  (Organic Jamaican Black Castor oil, Organic Argon Oil, Organic Grape Seed Oil, Organic Hibiscus flowers, Organic Coconut Oil, Organic avocado oil, Organic Almond Oil, Organic olive oil, Henna, Amla, Organic MSM, Organic Sandalwood Essential Oil Organic Lavender Essential Oil, Organic Rosemary Essential Oil, Shikaikai, Organic Fenugreek seeds, Clary Sage Essential oil, Organic Rose Hip powder, Brahmi, Organic Aloe Vera Powder, Organic Clove Essential Oil, Organic Kosher Plant Glycerin, Organic Pink Grapefruit Essential Oil, Peppermint Essential Oil, Organic Orange Essential Oil, , Organic Lemongrass Essential Oil, Organic Oregano Essential Oil, Organic Cedarwood Essential Oil, Organic Eucalyptus Essential Oil, Organic Tea Tree Essential Oil, Red Clover Extract.)
-Vegan Product -Therapeutic grade essential oils-Only Natural & Organic-No parabens -No silicones -No synthetic ingredients—No sulphates-- animal testing
Share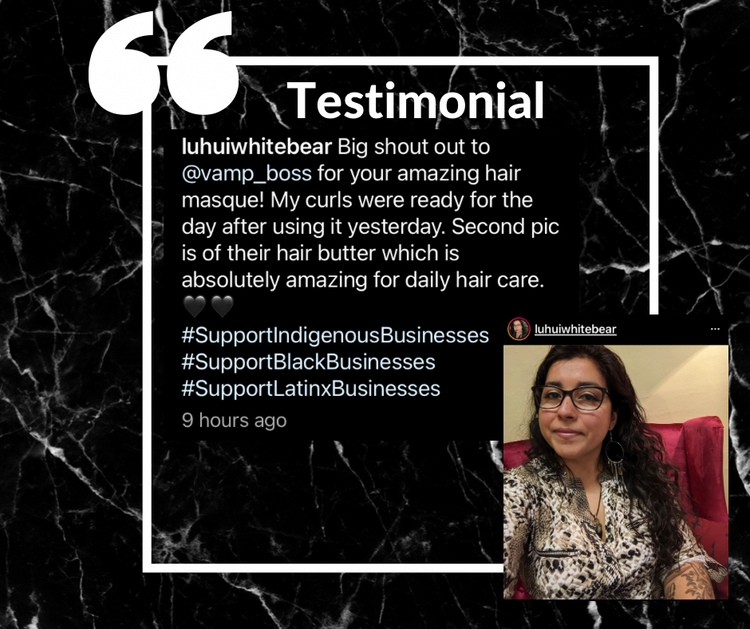 Testimonials
J.S., Happy Queen

I've been using the oils, and deep conditioners as well as the aloe hair mists. Thanks again!

Dr. Luhui W.

"Big shout out to Vamp Boss and your amazing hair masque! My curls were ready for the day after using it. #IndigenousBusinesses #SupportBlackBusinesses #SupportLatinxBusinesses"

Jessie C.

"I was finally able to use the henna hair masque... and my hair is SOO SOO happy!! I haven't had my hair this happy in longer than I can remember. Also using the aloe mists.It's all awesome!"
Addicted and Amazed!

Thank you for keeping my bleached hair soft and silky! I'm addicted and amazed. Plus, the glass bottled can be refilled!

This is SO Money!

To prep for my semiannual blowdry length check, I always start with the Money Masque and use the hair teas to prep my blowdry and style.

I love the way my hair feels!

You're the best! I keep feeling how soft it is.
Perfect Natural Hair Care Luxury

Still Hella Soft

My hair feels amazing! Left it {the masque} in for 5 hours

Hair looks really good babe!

I'm telling you this product is so freaking amazing!